The Ministry of Public Security held a scientific seminar themed 'People's policewomen – historical paths' in Hanoi, on March 7.
The delegates discussed and highlighted the role and contributions of policewomen in the protection of security and order in the country, as well as in the building of a public security force during the revolutionary periods.
Speaking at the seminar, Deputy Minister of Public Security Nguyen Van Thanh asked the Party committees and leaders of units at all levels to pay great attention to training and caring for their female staff.
On the same day, the Dak Lak provincial Women's Union launched a programme entitled 'Connecting Love and Share' to support women living in difficult circumstances in the province.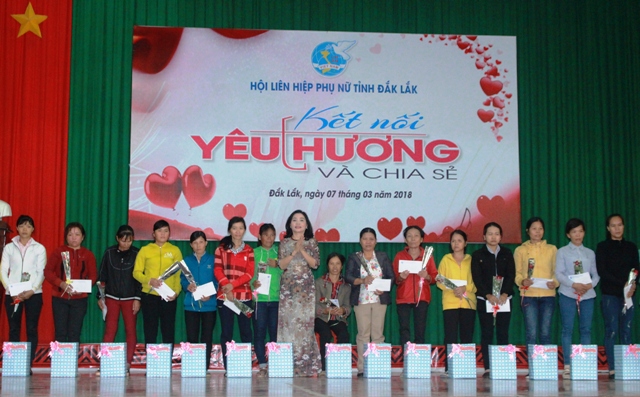 Chairwoman of he Dak Lak provincial Women's Union presents gifts to women with difficulties. (Credit: daklak.gov.vn)
On the occasion, the provincial union presented 80 gifts and provided free medical checks-up and medicine to single women, those with disabilities, victims of Agent Orange, and women living in difficulties.
A meeting for the Militiawomen Company 4 in Dong Lam commune, Tien Hai district, Thai Binh province, was jointly held by the Cua Lan Border Guard and the provincial Women's Union.
During the war against American imperialism, the Company joined 129 battles, shooting down two enemy aircraft and protecting the safety of the land.