The event was attended by Politburo member, Secretary of Party Central Committee (PCC) and Head of the PCC's Commission for Mass Mobilisation Truong Thi Mai.
The honourees were selected from 229 candidates to the national outstanding young teachers awards in 2019. Among them were nine ethnic minority teachers, 14 doctors, 26 master's degree holders and 35 holding bachelor's degrees.
They all have overcome all difficulties to make great contributions to the development and innovation of the country's education and training.
Earlier, the outstanding young teachers exchanged with students at the Hanoi National University of Education, offered incense at the Van Mieu – Quoc Tu Giam (Temple of Literature) and visited the President Ho Chi Minh relic site.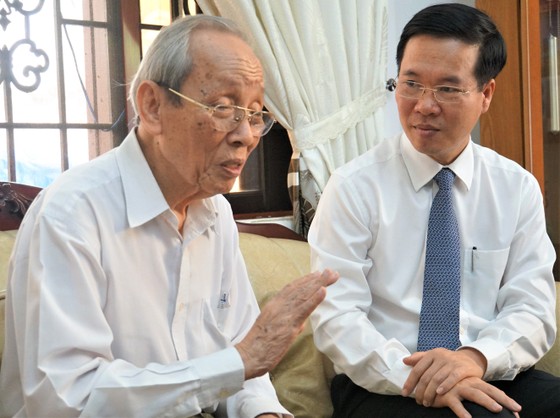 Politburo member Vo Van Thuong (right) and Prof. Dr. Tran Hong Quan (Photo: sggp.org.vn)
* On the same day, Politburo member, the PCC's Secretary and Head of the PCC's Commission for Education and Communication Vo Van Thuong visited and congratulated Prof. Dr. Tran Hong Quan, former Minister of Education and Training, on the occasion of Vietnamese Teachers' Day (November 20).
The Politburo member hailed the contributions made by the former Minister to the cause of education and training of the country.
* Also yesterday, the Hanoi University (HANU) held aceremony to mark its 60th founding anniversary, with the attendance of Politburo member, Secretary of the PCC and Head of the Commission for Economy Nguyen Van Binh.
In addition to appreciation to the achievements that the university has gained over the past year, the Politburo member asked HANU to continue to innovate and promote creativity and autonomy in teaching and learning.