Addressing the ceremony, Deputy Minister of Defence Sen. Lieut. Gen. Nguyen Chi Vinh described Vietnam's engagement in the UN's peacekeeping activities as a breakthrough to consistently implement the Party's foreign policy.
It also marks a change in both the quality and quantity in multilateral cooperation in general and in defence and security in particular, he stressed.
The participation of the Vietnam People's Army in UN's peacekeeping missions demonstrates its role in the country's revolutionary cause and in implementing its international duties, he stated.
He asked the Vietnam Peacekeeping Department and agencies of the Ministry of Defence to closely coordinate with the ministries and sectors concerned in managing the operation of the hospital.
He requested that the hospital staff promote solidarity and fulfil their assigned tasks, deserving the trust of the Party, State, army and people, while promoting the image of Vietnamese soldiers in the eyes of international friends.
The staff were also demanded to strictly follow the Party, State and Army's foreign policy, as well as the regulations of the UN and the Mission, and the laws of Vietnam and the host country.
Watching the send-off ceremony online, from the UN headquarters in New York, UN Under-Secretary-General for Field Support, Atul Khare, sent his congratulations and highly appreciated Vietnam's direct engagement in UN's peacekeeping activities.
The level-2 field hospital's participation in the mission not only illustrates Vietnam's goodwill and responsibility in UN peacekeeping activities but also demonstrates the country's efforts and capacity in the work, contributing to bringing stability and peace for the people in countries and regions of instability, conflict, poverty, backwardness and diseases, he said.
Selected photos at the event: (Photo: nld.com.vn)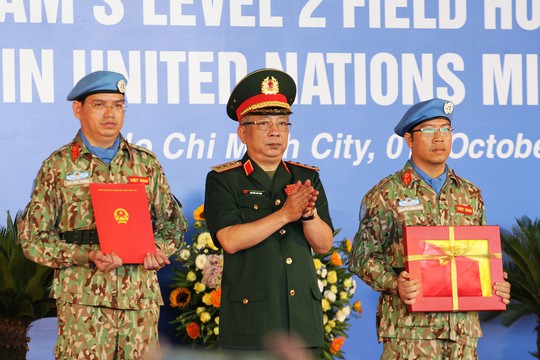 Deputy Defence Minister Sen. Lieut. Gen. Nguyen Chi Vinh (centre) at the event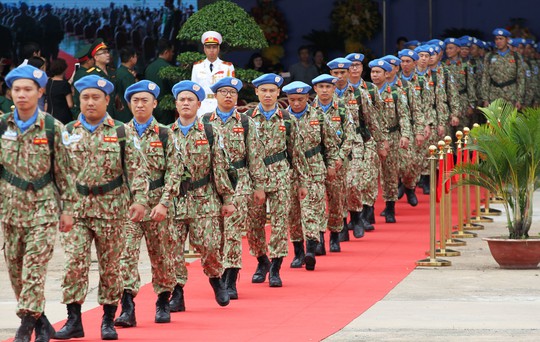 \