HANOI
PERFORMANCE
"La Ventura": Guitar Duel by Le Thu & Thierry Bégin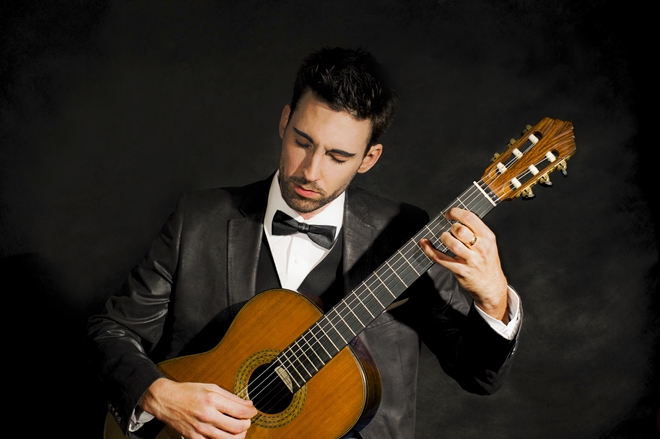 8 pm, April 6
Institut Français de Hanoi – L'Espace
24 Trang Tien Street, Hoan Kiem district
You are invited to the Guitar Duel "La Ventura" featuring Le Thu, a talented Vietnamese-born guitarist, winner of the "Best Guitarist from Asia" award at the Calcutta Classical Guitar Festival and acclaimed French guitarist Thierry Bégin.
This outstanding duo will certainly surprise classical guitar lovers with an exceptional repertoire dedicated to French music.
Tickets: VND100,000 – VND210,000 – VND300,000
Satoshi Gogo Live in Vietnam 2019
8 pm, April 7
Youth Theatre
11 Ngo Thi Nham street, Hai Ba Trung district
Come to enjoy a finger style guitar concert featuring young talented Japanese guitarist Satoshi Gogo. Gogo won first prize in four different categories of the Fingerpicking Morris Competition in 2004 when he was just 16 years old, establishing himself as the youngest winner of all time.
Tickets: VND300,000 – VND400,000 – VND5-500,000 – VND1 million
EXHIBITION
Exhibition « Is it necessary to have a name…"
Heritage Space, 1st Floor, Dolphin Plaza
6 Nguyen Hoang street / 28 Tran Binh street, Nam Tu Liem district
You are invited to an anonymous art exhibition showcasing the works by an artist group that belongs to the second generation of Vietnamese contemporary arts.
The exhibition presents ways of perceiving the world in different states of reflection and questioning with the anonymity of the artworks' authors. Not deliberately hiding their identity, or simulating the traditional 'anonymous' spirit.
Exhibition "Daily Conversation"
Institut Français de Hanoi – L'Espace
24 Trang Tien Street, Hanoi
"Daily Conversation" is a mix between silk paintings by Le Kim My and original installations by Vu Kim Thu. Two artists with distinct art practices holding an exhibition together for the first time at L'Espace.
With different modes of expression, the two artists tell the story of daily life in this shared space.
Free entry
HO CHI MINH CITY
PERFORMANCE
Krossing Over Arts Festival 2019
April 5-11
Krossing Over Arts Festival (KOAF), co-organised this year by Kerman and French Institute in Vietnam, is in its third edition with an exciting two-week-long programme over two cities, featuring a series of interdisciplinary and collaborative performances along with a plethora of artist talks, dance workshops, and international film screenings.
The festival will take place from April 5 to 11 in Ho Chi Minh-City and from April 13 to 21 in Hanoi at 15 different locations both indoors and outdoors.
Embracing the theme "Roots", site-specific and on stage works presented at this year's festival open a wide spectrum of imagery from the part of a tree that grows deep into the earth to the metaphorical link to our ancestors.
Ticket price: VND350,000 – VND250,000 – VND100,000 for students or IDECAF students
Teh Dar: Vietnamese Tribal Culture
6:00 pm, April 1, 4, 5, 6 and 7
Ho Chi Minh City Opera House
7 Cong Truong Lam Son, Ben Nghe Ward, District 1
'Teh Dar: Vietnamese Tribal Culture' features a vibrant display of circus arts, aerial acrobatics, and tribal music within an hour-long performance.
The show highlights the lives of tribal families from the southwest highlands of Vietnam, using UNESCO-listed percussion instruments, such as Vietnamese gongs and buffalo horns, as well as vibrant costumes, and a stunning bamboo cirque depicting various landscapes and creatures from tribal folklores.
Price range: VND630,000 - VND1,470,000
EXHIBITION
Exhibition "Chapter 4: Days and Nights of Revolving Joy" by Sandrine Llouquet
Galerie Quynh
118 Nguyen Van Thu, Dakao, District 1
Borrowing a line from "The Four Zoas", an unfinished book of mythic poems by William Blake, the exhibition's title reflects the continuous and elaborate journey of learning and discovery for the artist.
The exhibition unveils newly produced works incorporating ceramics, installation, and video that delve into the ideas of identity and division, recurrent themes in Llouquet's practice.
Exhibition "Machine is Nature"
The Factory Contemporary Arts Centre
15 Nguyen U Di, Thao Dien, District 2
The exhibition features 15 artists from Vietnam, Thailand, Bangladesh, China and the UK, curated by The Factory and Inlen Photo Gallery.
This exhibition seeks to engage the behaviour and consequence of thinking that machines have become the 'Nature' we study and prioritise. It examines the current times in which we live, sharing the work of artists who are both in awe, and critical, of the patterns, substance, psychological relations and historical fictions between assumptions of Nature and the Machine.