HANOI
PERFORMANCE
Évolution – Maestoso Piano Series No. 3
8 pm, October 3
Hanoi Opera House
1 Trang Tien street, Hoan Kiem district
The concert will take the audience on a journey into the vast magical world of piano music, seeing the marvellous transformation of musical languages all the way from the late 18th century to the end of the 20th century through various pieces by Beethoven, Liszt, Tchaikovsky, Scriabine, Ravel, and especially the 5 Bagatelles by Australian contemporary composer Carl Vine in its premiere in Vietnam.
The event also marks the special comeback to the national classical music scene of the award-winning pianist Luu Hong Quang, who is currently the youngest lecturer at the Academy of Music and Performing Arts (AMPA) in Australia.
Ticket: VND 200,000 – VND 300,000 – VND 500,000
Vietnam Airlines Classic – Hanoi Concert 2018
7 – 9 pm, October 6
Ly Thai To Flower Garden, Hoan Kiem District
Taking place at the Ly Thai To Statue and Garden in Hanoi's famous Hoan Kiem District, the concert will bring world-class cultural and artistic works to local audiences in Hanoi.
The concert will star trumpeter David Elton, violinist Carmine Lauri violin, and the acclaimed London Symphony Orchestra under the baton of conductor Elim Chan.
The concert is free to watch on big screens located around Hoan Kiem Lake.
Subscription Concert Vol. 114
8 pm. October 7
Hanoi Opera House
1 Trang Tien, Hoan Kiem district
You are invited to the Subscription Concert Vol. 114 with the participation of conductor Gregor Meyer, violin soloist Hartmut Schill, viola artist Karoline Kersten, oboist Elisabeth Grummer, contrabass artist Tilman Schmidt, and the Vietnam National Symphony Orchestra.
Programme:
Mendelssohn
Die Hebriden, Op. 26 (Fingalshöhle)
Mendelssohn
Violin Concerto in E-minor, Op.64
Interval
Mendelssohn
Symphony No.4 in A-major (Italian), Op.90
Ticket: VND 200,000 – VND 300,000 – VND 500,000
EXHIBITION
Exhibition "Fragments" by Hiraki Sawa
Vincom Center for Contemporary Art (VCCA)
B1 – R3, Vincom Mega Mall Royal City
72A Nguyen Trai, Thanh Xuan District, Hanoi
The Vincom Center for Contemporary Arts (VCCA) proudly presents "Fragments", an exhibition showcasing surreal art pieces by one of the top artists in Japan, Hikari Sawa. Through this exhibition, the VCCA hopes to bring video art closer to the public.
Exhibition "Infinity of Mirror"
Institut Français de Hanoi – L'Espace
24 Trang Tien street, Hoan Kiem district
The exhibition is expected to be a unique experience, giving audiences a chance to enjoy calligraphic artworks by Christian Hadengue and paintings by Le Thua Tien, with music composed by Mark Lockett played in the background and accompanied by Hubert Haddad's poems.
The exhibition is a meeting between artists who have adopted a language naturally 'out of step' with their cultural backgrounds (Western and Asian).
HO CHI MINH CITY
PERFORMANCE
A O Show by Lune Production
6:00 pm, everyday except Thursday
Ho Chi Minh City Opera House
7 Cong Truong Lam Son, Ben Nghe Ward, District 1
The A O Show features optical illusions and impressive acrobatics, paired with traditional music performances by a troupe of talented local artists.
Known as the Cirque du Soleil of Vietnam (minus the flashy outfits), this live show depicts the transition of rural Vietnam into today's modern landscape, using props such as giant woven baskets, scaffolding, bamboo canes, and ropes.
Price range: VND630,000 - VND1,470,000
EXHIBITION
Solo Exhibition "lamina | ink" by Kenny Ng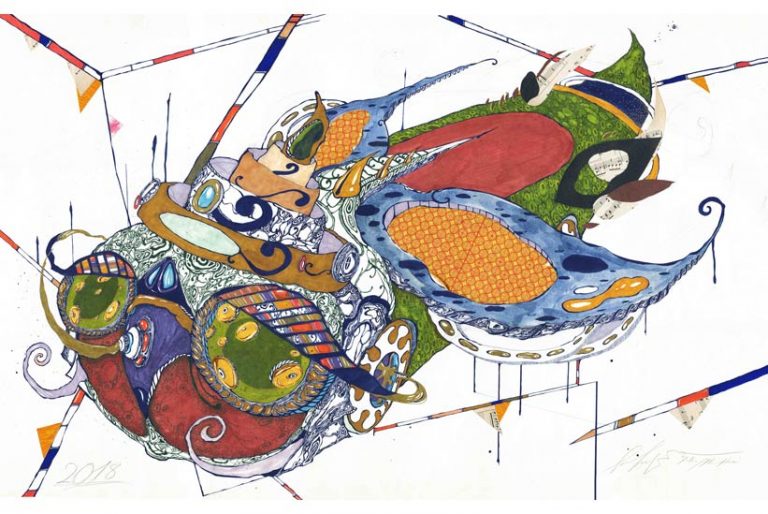 The Factory Contemporary Arts Centre
15 Nguyen U Di Street, Thao Dien ward, District 2
Kenny Ng's first solo exhibition, titled 'lamina|ink', will showcase a series of abstract characters, inspired by the diverse shapes and forms of mysterious deep sea organisms, combined with the colonial and old temple architecture of Ho Chi Minh City.
The architectural lines of these drawings tell a story of history and culture, both familiar and strange to Kenny, a young artist who returned to Vietnam in 2015, after 7 years of studying and living abroad.
Tickets:
For adults: VND35,000
For students: VND 25,000 (with appropriate student ID)
For children under 16: free (with appropriate ID)
Photo Media Exhibition "FoMO – Fear of Missing Out"
Toong Minh Khai
126 Nguyen Thi Minh Khai street, District 3
In his series 'Fear of Missing Out', Australian photomedia artist Darren Tynan documents video compression errors using broadcasts from free-to-air Australian television channels.
By intercepting broadcast signals, Tynan explores transmission glitches as a serendipitous phenomenon and as a creative tool in the photographic process.
A project spanning two years, FoMO is a world punctuated by randomness, disintegration and transmutation.
Free entrance.
Duo Exhibition 'site / shine / sight'
The Factory Contemporary Arts Centre
15 Nguyen U Di Street, Thao Dien ward, District 2
You are invited to come to 'site / shine / sight' – a duo exhibition featuring collaboration between visual artist/filmmaker, Truong Que Chi and architectural studio, vn-a.
The artists will transform the space of The Factory Contemporary Arts Centre into a dim maze, where all of the light emits from the various sculptures, installations and photographs within the recesses of particularly placed, structurally specific louvers.
Tickets:
For adults: VND35,000
For students: VND 25,000 (with appropriate student ID)
For children under 16: free (with appropriate ID)