HANOI
PERFORMANCE
Concert "Untellable Stories" by Le Cat Trong Ly
8 pm, February 23 and 24
Manzi Art Space
14 Phan Huy Ich street, Ba Dinh district
Come to enjoy the latest musical compositions and best selected ballads of Vietnamese singer/song writer Le Cat Trong Ly
The concerts will feature three celebrated musicians/composers of Hanoi: Cellist Nguyen Thanh Tu, Oboist Nguyen Hoang Tung and Pianist Cao Thanh Lan.
Surcharge: 1.000.000 VND/seat/night
African Music Fest
9 pm, February 24
Hanoi Rock City
27/52 To Ngoc Van street, Tay Ho district
You are invited to a music fest by The Jagabams, a mixed band of musicians and dancers from various African countries. The event will fill you with cheer through African dance steps and music of different styles: Afro, High life, Makosa, and many others.
Tickets: VND 50,000 at door
Ca Tru Concert "Worship Songs for Spring"
7.30 pm, February 24
Phu Sa Lab
No. 21, Alley 52, To Ngoc Van street, Tay Ho district
You are invited to a Ca Tru (Vietnamese ceremonial singing) performance with the theme "Worship Songs for Spring" by Ca Tru master Pho Thi Kim Duc, the daughter of Pho Dinh On, who was the manager of a famous Ca Tru troupe in Kham Thien District, Hanoi, at the beginning of the 20th century.
Kim Duc began learning how to sing at the age of 7 and embarked on her singing career at 13.
EXHIBITION
Calligraphy Fair 2018
8 am – 10 pm, February 9 - 25
Literature Lake
58 Quoc Tu Giam street, Ba Dinh district
The Calligraphy Fair is an annual event taking place at Literature Lake (part of the Temple of Literature).
The New Year event offers visitors live calligraphy demonstrations, along with a hands-on experience of Vietnam's traditional crafts, folk games and cultural activities.
Free entry.
Exhibition "Spring Blossoms of Hanoi"
Ho Guom Cultural Information Centre
2 Le Thai To street, Hoan Kiem district
You are invited to an art exhibition themed "Spring Blossoms of Hanoi", featuring 80 oil and watercolor flower paintings by 13 Hanoian artists.
Works on display feature the spirit of spring in the air and convey artists' hopes and dreams for a new year – during a season of blossoming flowers and sprouting greens.
Exhibition "Colors of Love"
Lotte Observation Deck, Lotte Center
54 Lieu Giai Street, Ba Dinh district
This exhibition displays beautiful artworks by Vietnamese and international painters and photographers to color the celebration of the Vietnamese traditional Tet (Lunar New Year) festival.
Participating artists include Josh Roxas (Philippines), Maida Gayle (Canada), Claire Allured (England), Cat O'Brien (England), Ho Nguyen (Vietnam), Claudia Garcia (Peru), Lois Davis (Canada), and Vu Quang Hung (Vietnam).
HO CHI MINH CITY
PERFORMANCE
Ho Chi Minh City Street Show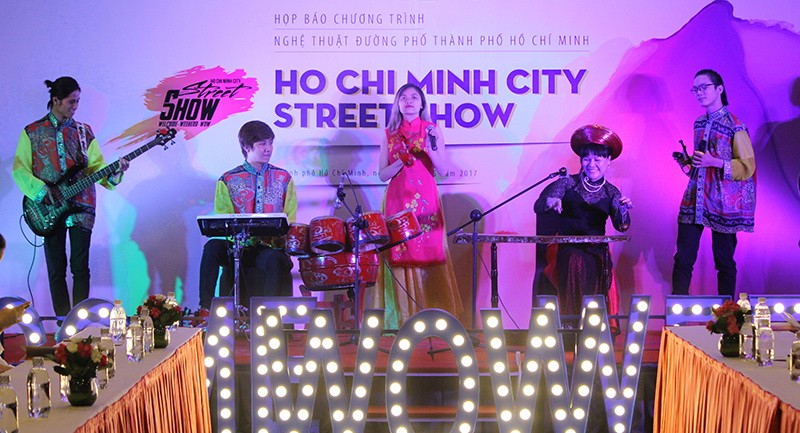 20:00 - 21:00, every weekend
Nguyen Hue walking street, Ben Nghe ward, district 1
The show features a myriad of art forms like magic performances, romantic duet singing, and southern folk music.
EXHIBITION
Exhibition "Guerilla Tactics" by Nguyen Quoc Chanh
Saigon Domaine, Ground Floor
1057 Bình Quoi Street, Ward 28, Binh Thanh District
"Guerrilla Tactics" is the first solo exhibition of ceramics by Nguyen Quoc Chanh, an acclaimed poet, admired by his peers and audiences in Vietnam and overseas.
Group Exhibition "Alluvium"
Galerie Quynh
118 Nguyen Van Thu Street, Dakao, District 1.
The exhibition features works by 11 Vietnam based artists: Nadege David, Do Thanh Lang, Ha Manh Thang, Hoang Duong Cam, Hoang Nam Viet, Le Hoang Bich Phuong, Sandrine Llouquet, Nguyen Huy An, Nguyen Manh Hung, Nguyen Quang Huy, and Trong Gia Nguyen.
The geological term 'alluvium' – embodying in itself a sense of movement – refers to the sedimentary matter washed onshore by flowing bodies of water.